At Okinawa Spa Resort EXES, the safety and health of our guests and employees is our top priority in our effort to safeguard everyone against COVID-19. We have taken the following measures so that our guests may enjoy their stay with peace of mind.
《For Overnight Guests; Posted July 10》
The Ministry of Health, Labour and Welfare has asked everyone to cooperate in ensuring a safe environment and, as part of this effort, guests will be asked to undergo temperature checks.
① If you have a fever of 37.5°C or higher, a cough, or sore throat when you check in, the public health center will be notified and you will be asked to follow their instructions.
②Single room (guest accommodations) will be arranged for guests experiencing a fever, cough, or sore throat and they will kindly be asked to avoid going out as well as contact with other guests.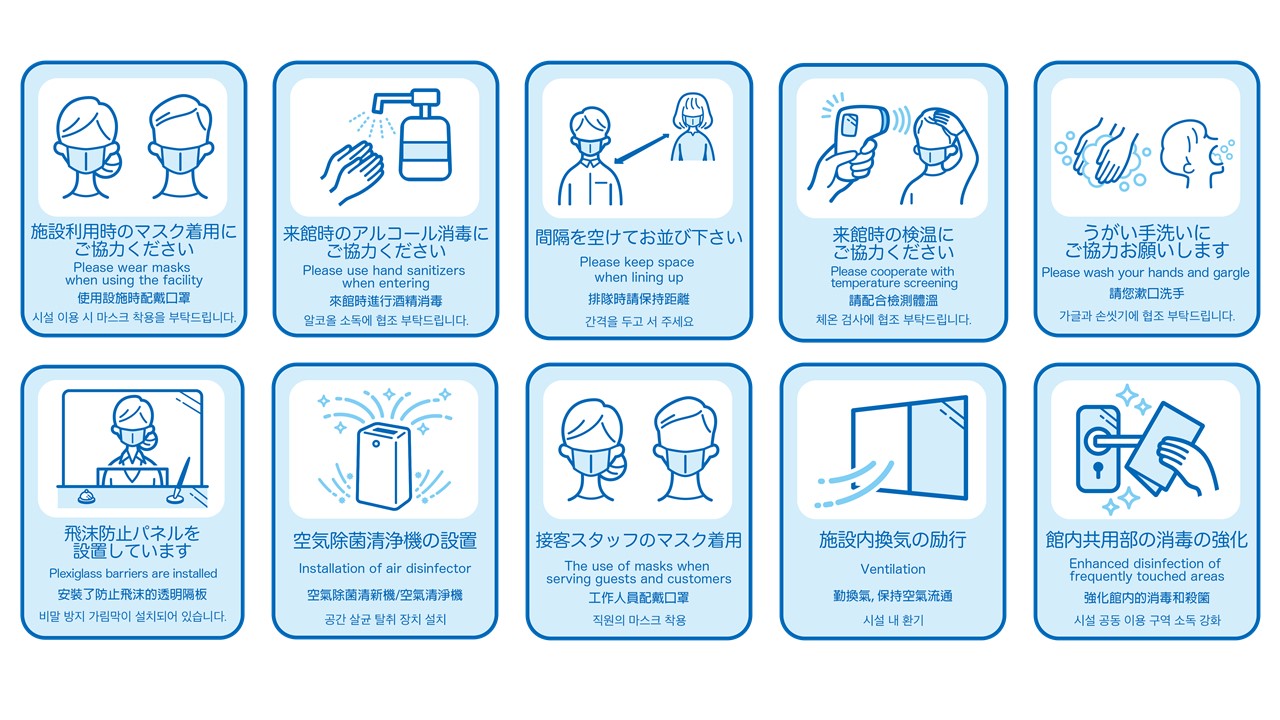 ■Greater availability of hand sanitizer stations
We have set up more hand sanitizer stations at the lobby, elevators, restaurants, restrooms, and other areas as part of our effort to create an environment that makes it convenient for guests to keep their hands clean.
■Enhanced regular disinfection
We regulate disinfect areas that people may often come into contact with, including the front desk counter, doorknobs, elevator buttons, seats, as well as tables and chairs in restaurants in addition to other areas.
■Face masks
In the interest of public hygiene and protecting the health and safety of our guests, our employees wear masks as they attend to guests. We kindly ask our guests to also wear a face mask please.
■Restaurants
Gloves are available for our guests to use when selecting buffet items. We also ask that you please wear a mask when at the buffet table. In addition, we are replacing buffet food trays and tongs more frequently. Our employees are also wearing face masks and gloves.
■Employee health management
Our employees are prohibited from reporting to work if they develop a fever or feel unwell. They also strive to prevent infection by frequently washing their hands well and sanitizing them.
■Greater availability of hand sanitizer in employee workspaces
We have also set up hand sanitizer stations in areas used by employees, including employee entrances, offices and restrooms. We also encourage our employees to be meticulous about sanitizing their hands.
■We have temporarily closed the sauna as it is a closed space and unable to be ventilated. ⇒⇒As of 14:30 on July 9, the sauna is open once again to guests.
Please see the request from Okinawa Prefecture entitled: "To Everyone Traveling to Okinawa."
We hope that everyone will take care to wash their hands, make sure fresh air circulates, practice social distancing, avoid closed spaces, crowded places and close contact with others so that we may prevent infections in the same way that we all would do in our own home so that everyone may have a safe and enjoyable stay.